ALL ARE WELCOME is celebrating ONE YEAR of service to our community!
Please share the news and join us for our celebration!
SATURDAY MARCH 16, during our regular breakfast service – 7:30AM – 11AM at 60 Union Street, Middleboro, 02346 (inside the Church of Our Saviour parish hall).
In addition to traditional breakfast items, we'll be having some treats with an Irish flair, live music with Scott & Tyler Philie and Kathy Phipps, and every guest will be entered to win a Pure Digital FLIP HD video camera!
If you haven't been to a meal at AAW yet, don't miss this one!
Thank you for your continued support and thank you for a FABULOUS first year – we're looking forward to many, many more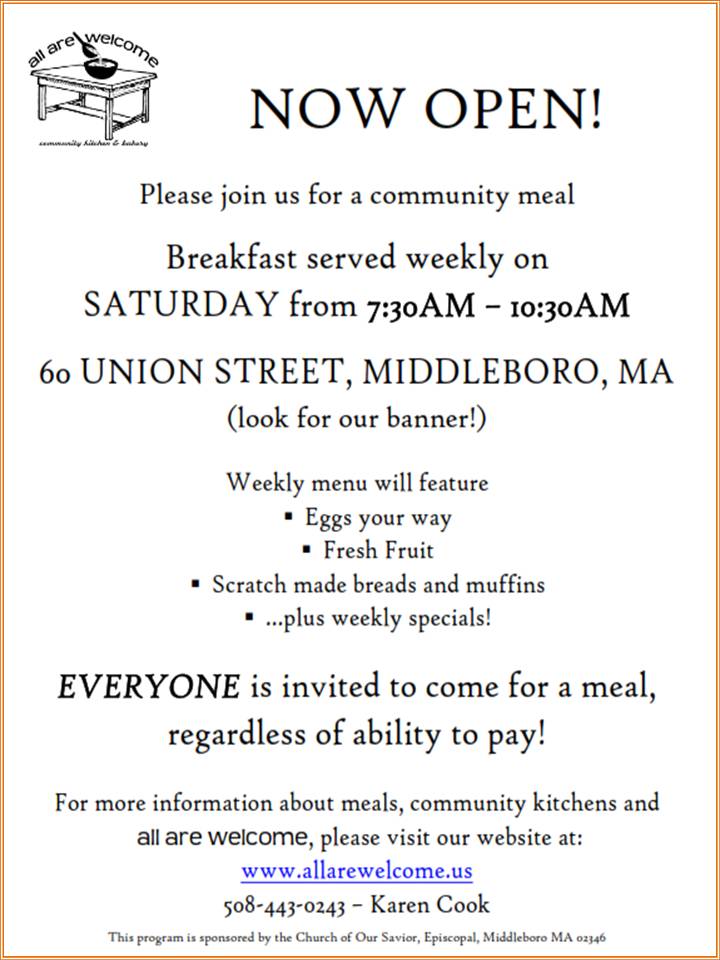 LETTER: All Are Welcome Community Kitchen thanks the community
Posted Mar 23, 2012 @ 06:00 AM
All Are Welcome Community Kitchen would like to thank all of those who helped us celebrate the grand opening Saturday, March 17. All Are Welcome is a donation café sponsored by the Church of Our Savior, Episcopal, Middleborough.
Our core group of volunteers was kept busy by the steady stream of guests who enjoyed a special Irish breakfast menu, including corned beef hash and Irish soda bread, eggs, pancakes and more.
The positive response received for our program brought diners and volunteers from Middleborough, Plymouth, West Bridgewater and many other towns.
Our goal is to provide quality, nutritious meals to those who are struggling by encouraging the support of those able to donate a requested amount for a meal. Continuing support from the wider community, like we had at our grand opening, will help us meet our goal! We are always looking for more people willing to support our mission. Feel free to contact us at www.allarewelcome.us or by phone at 508-443-0243.
Thank you again to all who joined us for or first community meal…and if you missed this week, we'll be serving breakfast every Saturday from 7:30 to 10:30 a.m. at the Church of Our Savior Parish Hall, 60 Union St., Middleborough, MA. – Karen J. Cook, Founder, All Are Welcome, Middleborough